Self-Storage Website Design
High-Quality Websites Designed for Self-Storage, Mini Storage, speciality storage, and Boat & RV Storage Facilities
Get more storage leads with a custom, user-friendly, SEO website.
Custom Websites Designed to Maximize Your Storage Occupancy
The self-storage industry is one of the most competitive industries out there. With that much competition, the design and "findability" of your storage facility website can make or break your business.
Green Tulip Design creates well-designed, SEO websites for storage facilities that focus on  search engine optimization, branding, user experience, and conversions. Reach out to discuss your goals for your storage facility website.
Types of Self-Storage Web Design We Offer
Marketing Websites
Self-storage marketing websites are vital for every storage facility. They help build trust with the customer and answer many of their questions.
Landing Pages
Self-storage landing pages are a great way to generate leads from targeted campaigns without the customer getting distracted.
Online-Rental Sites
Many facilities choose to allow their customers to rent or reserve units online for the best user experience. We can integrate many reservation systems into our design.
Multi-Location Websites
Multiple locations, one brand. Building connecting sites for different locations helps to build brand recognition and capitalizes on SEO elements.
Self-Storage Websites Should…
Save You Time
By having a storage website designed with your customers in mind, you are able to answer many of their questions without them having to call you. This adds huge value to them and saves a lot of time for you and your team.
Generate Storage Leads
Fill your storage facility and increase your profits! Having a storage website will produce new leads and new tenants. Getting storage leads is a great way to keep your facility full. With a full storage facility, you can (and should!) easily increase rates and increase your profit.
Belong to You
Your website is a major part of your branding and marketing. You should not have to give it up when you decided to make other changes to your business. We build site that are designed to be flexible and grow with you. Upon completion the site is completely yours, forever.
Let's talk about your self-storage website design.
Reach out to discuss your goals and strategize with one of our web design experts on the best ways to reach them.
Self-Storage Web Design Services Included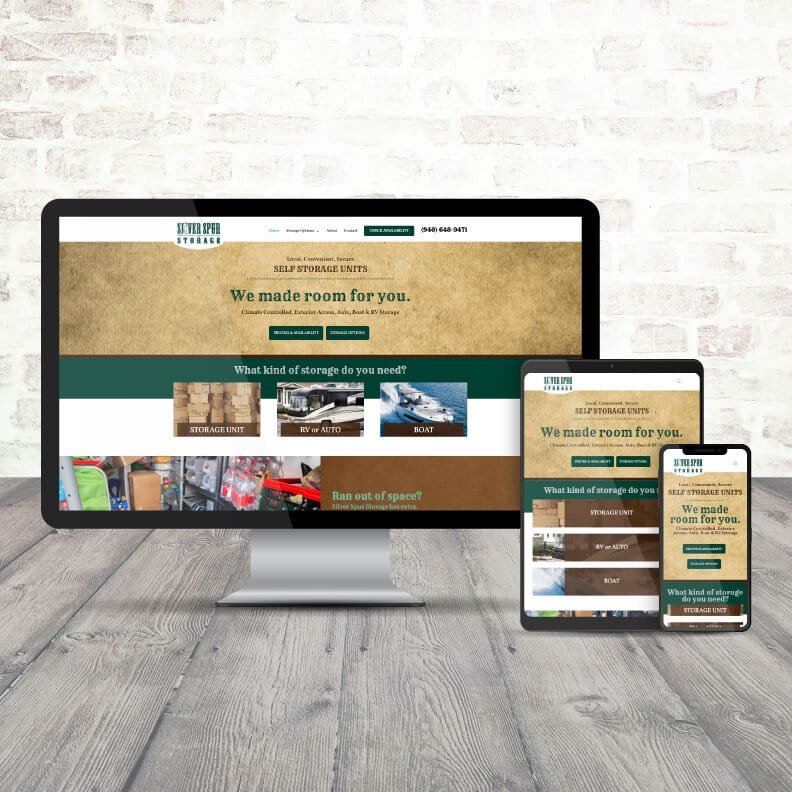 Self-Storage Website Strategy
We collaborate with our storage clients to decide what we are going to do before we do it. We build a strategy for the design and content to ensure we meet their vision and goals while providing customers the information they need.
Copywriting & Content Strategy
Copywriting is a creative science by itself! We take ideas and information and present them in a way that is engaging to people and easily indexed by search engines.
Search Engine Optimization (SEO)
Optimizing our websites and content for search engines is always on the top of our minds. Self-storage SEO is factored in to every part of the web design process.
Content Management System (CMS)
Our website designs are developed on WordPress, the leading content management system (CMS). Designing websites on WordPress gives our clients flexibility, editability, scability, and improved search engine rankings.
Responsive Web Design
With more than 60% of people searching on their phones for a storage facility, having a mobile-friendly web design is essential for higher conversions, providing a positive user experience, and improving SEO.
Analytics
We setup analytics for all of our clients' website so that we are able to track trends, make improvements, capitalize on successes, and adjust with industry changes.
The Web Design Process for Self-Storage
You know your business best.
We'll dive deep into your storage business to get a full understanding of your storage facility, your tenants, and website goals.
What is the market saying?
We complete industry research specific your your location and facility features that we will use as a guide for the website design and content development.
A CREATIVE SCIENCE THAT DRIVES RESULTS.
Your website is designed based on your branding, your vision, and your goals. We build out the site with intuitive organization, professional copywriting, and SEO best practices.
Show the world who you are.
We launch your new storage website and make sure the search engines can find it. We monitor the search results and make content refinements to continuously improve the success of the site.
We love our boat & RV storage website! Green Tulip Design gave us exactly what we wanted and offered suggestions on things we can do to make it even better! Very professional, very knowledgeable and so easy to work with. This was a great experience!
Karen McLamb, Airfield Boat & RV Storage
Websites for New Storage Facilities
Create your brand, FILL YOUR UNITS.
As a new boat & RV storage or self-storage facility you get the opportunity (or the burden) of starting from scratch to build your brand and start filling up your storage units. You'll need a logo, social media and other online profiles, a website, self-storage advertising ideas, and a marketing plan. Green Tulip Design offers more than just high-ranking storage websites. We provide a full range of design, website, and related services for marketing self-storage facilities to make your job easier and speed up your lease-up period.
It it always a good idea to build out your website well before you are ready to rent your first unit. This will help establish your reputation, give the community an update about when it will open and it will allow you to start building your marketing list and a waitlist. 
Storage Unit Website Design
GET THE BEST WEBSITES BUILT FOR SELF-STORAGE FACILITIES
Get more leads for your self-storage units! We offer custom self-storage website designs for storage solutions websites.
Self-Storage SEO
LOCALLY OPTIMIZED FOR YOUR CUSTOMERS TO FIND YOU ON GOOGLE
All of our custom sites include local optimization of the site, keywords, and other profiles to reach more local customers.
Storage Logos & Marketing
BRANDING AND MORE FOR MARKETING STORAGE UNITS
Logos, social media, PPC & more. We've got you covered (like RVs!) for all of your self-storage digital marketing needs.
Recent Articles
Self-Storage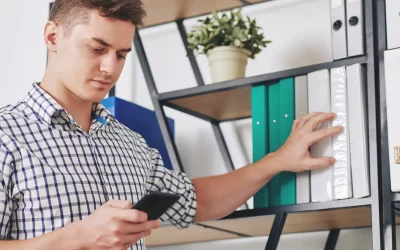 Self-storage facilities have become increasingly popular in recent years. With the change of guard in generations, more and more people are looking...
DON'T LET YOUR IDEAS GET LOST IN TRANSLATION.
At Green Tulip Design, you will be working directly with the designer so mistakes and miscommunications are virtually non-existent.
YOU ARE NOT EXPECTED TO KNOW EVERYTHING.
Design and marketing is our business, it's OK if you are not an expert. We will offer ideas and suggestions to develop phenomenal designs and campaigns to push your business to the next level.
A CREATIVE SCIENCE THAT DRIVES RESULTS.
Everything we do centers around the results it will produce for our clients. We aren't fine artists, we are marketing designers whose sole purpose is to help your self-storage or boat & RV storage business grow.